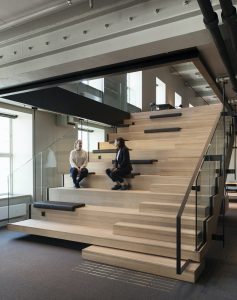 After the many months we've had of disruptive and traumatic lockdowns and social distancing, companies will need to prioritise the wellbeing of their employees as they gradually make their way back to the office. The return will likely be met with mixed messages. On the one hand, there is the relief of reconnecting with colleagues and getting back to a pre-pandemic-ish way of working. On the other, there are the challenges of returning to a new normal and navigating any number of potential changes. For example, hybrid working is on the rise after an extended period of working from home: where some colleagues will physically be in the office and others will remain virtual at least part of the time. This will have impacts on the physical workplace as well as the company culture.
Despite ongoing uncertainties, we know that design can have a positive impact on health and wellbeing, and that people perform better when they feel better. This gives us an opportunity to support the wellbeing of employees after the intense period of uncertainty, and to attract and retain talent as everyone navigates their personal and professional lives in a post-Covid world.
Read the full article to see how to bring workplaces to life.