The Playbook is all you'll need to successfully deliver what could be one of the largest business transformation investments your organisation is ever likely to make. What's in the Playbook? Every single thing you could possibly need! We've consolidated everything from the strategic to the tactical including policies, processes and plans we've built ourselves (called aitems®), together with useful tips and advice on pitfalls we've encountered during years of large-scale Cloud programme delivery. The Playbook is supplied as an interactive e-book with aitem® downloads along with a hard copy primer.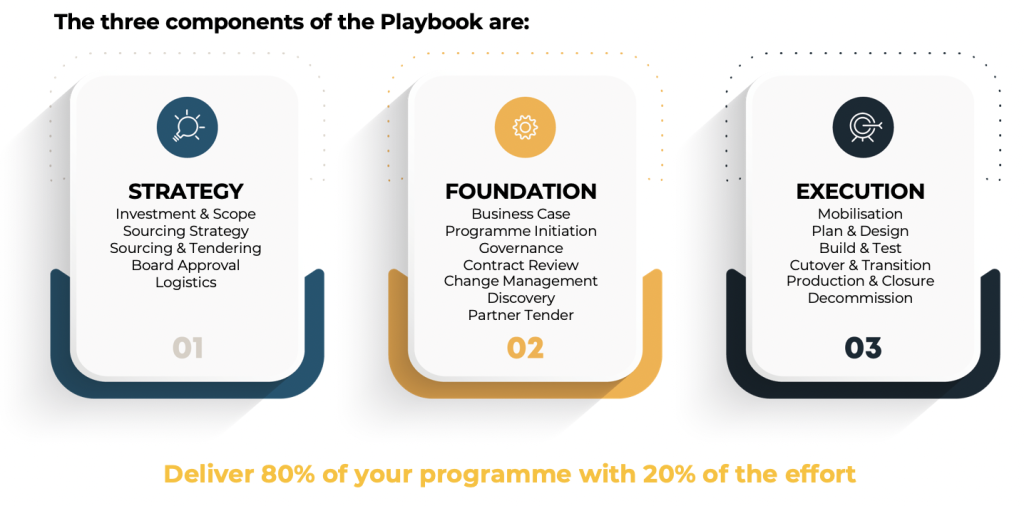 Shape your own Playbook
Of course, you may not need an end-to-end solution, so we've made the Playbook flexible. You can take as many or as few components as your unique business requirements and team capability/capacity dictate.
Where's the value?
If you're aiming to improve overall efficiency, make your business fitter for the future and give yourself the edge in today's competitive markets through digital transformation then our Cloud Playbook is the scalable, effective and proven solution you need. Built by experts using hands-on experience to mitigate as much risk as possible, it's a best practice approach that supports audit and scrutiny. Every technical aspect of migration you'll need to transform your IT estate seamlessly is included. And it's not just about the technology; little can be achieved without the right team in place and business buy-in so the Playbook also includes critical non-technical components such as organisation and resourcing structure, governance, planning and control, and change management.