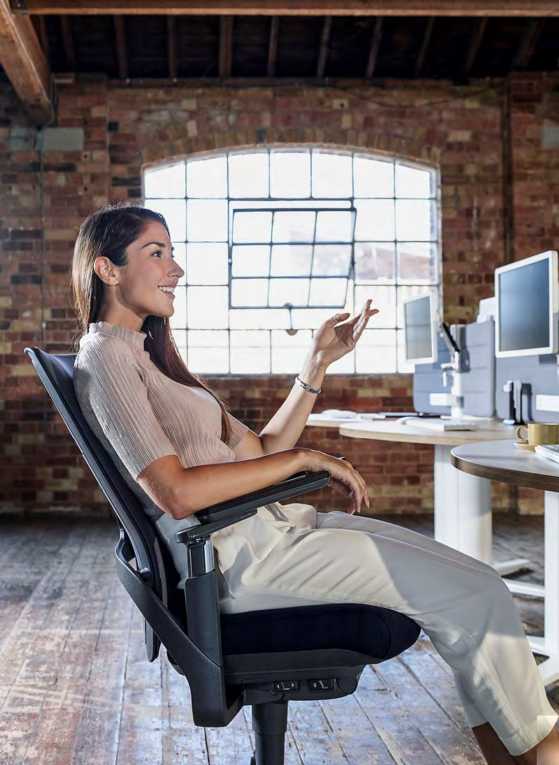 As we're now predominantly working from home, the correct work set-up is vitally important to your future well-being.  Working from home doesn't mean you should neglect yourself and your working set-up. We've put together some guidelines that will help you to set up your monitor, keyboard, mouse and body position so that you experience as little discomfort as possible.
This file may not be suitable for users of assistive technology. Request an accessible format 
If you tend to sit for long periods of time, we would suggest investing in a good ergonomic chair to support various postures throughout your working day. If you are able to take your work office chair home with you then this is a good option. Ergonomic chairs are usually modular and built to your specification e.g. extra-deep seats for tall users or a shorter back for smaller users. Once you have found your perfect chair, take time to set it up correctly to make sure you benefit from all the features of your chair.
Office chairs are required to be adjustable for height and have an adjustable backrest for height and tilt. These features allow the backrest to be adjusted to support the natural curvature of the lower back, which in turn aids correct overall body posture. The height of the chair should allow positioning of the hands on the keyboard so that the wrists are straight, the elbows are resting by the side at 90 degrees and there is minimal reaching or leaning.
If you do not have an ergonomic chair, you could make some comfortable adjustments to your current chair with sitting wedges to angle your pelvis forward slightly for a better posture, to make it a little bit more supportive. If you are sat too low the placing of cushions or pillows on the seat pad may help raise your posture and prevent stress and strain on your shoulders, neck and lower back.