Seeing AI and OrCam MyEye: A Comparison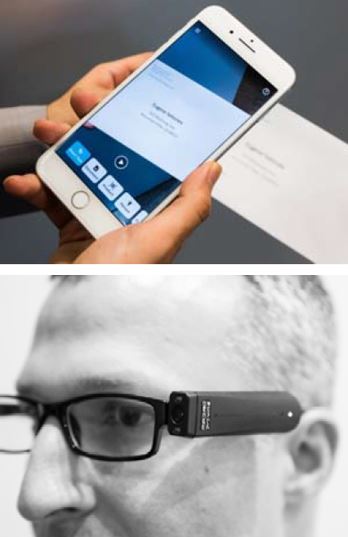 Today we have an unprecedented range of options to access and convert information into accessible formats. Seeing AI and OrCam MyReader are two of the most recent, most innovative and most exciting technologies that are literally changing the world for people who are blind or have low vision. While they share many features, these two products are very different and it is important to understand how these differences impact individual users.
Seeing AI is an app developed by Microsoft. Seeing AI uses Microsoft AI (artificial intelligence) and the camera on the iPhone to read documents, recognise people's faces and provide a description of their appearance, identify a product using its barcode, and recognise and narrate images.
OrCam MyEye is a small wearable artificial vision device designed to assist people who are blind, have low vision or are otherwise unable to access print such as stroke victims, or people with dyslexia. The intuitive, lightweight camera instantly and discreetly reads printed and digital text aloud – from any surface – and recognizes faces, products, and currency, all in real time. OrCam MyEye's proprietary algorithms work independently offline – without any data or subscription fees, connectivity lapses, or privacy concerns.
Seeing AI is free, and OrCam MyEye costs a similar amount to an average hearing aid. Increasingly products are being recommended to people based on their cost and not on the ability of the product to best meet each individual's needs. While Seeing AI is recognised as exceptional technology, here are a few reasons why proper evidence based needs assessment should be the guiding principle of product recommendations.
Seeing AI is exceptional technology provided at no cost by Microsoft and this makes it an attractive option for many people. For casual or sporadic use Seeing AI may satisfy the needs of a user who only occasionally has to access printed information, like read a food label. However due to some of the limitations, cannot be compared to the OrCam MyEye for any application within a professional, employment or educational setting, or for someone who requires all‐day access to printed information wherever they happen to be.
The biggest shortcoming of Seeing AI is not the app itself so much as the platform on which it operates. Smartphones at this stage do not have the battery capacity to make apps like Seeing AI useful for more than the casual user. They also require the use of both hands and above average dexterity skills.
Download the PDF for the full comparison by Quantum