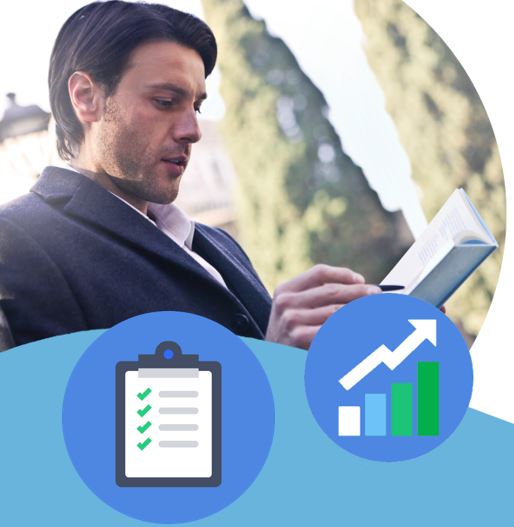 SuperReading is a combination of tools and strategies that allow people to progressively improve their reading focus, comprehension, recall and speed.
SuperReading allows you to track your comprehension, memory and speed while you progress and see live results. While users begin employing the focus, comprehension and memory tools from day one, the high speeds are worked on "in the background" while doing the Eye-Hop exercises; a simple yet innovative way to overcome slow reading and dyslexia.
SuperReading is a comprehensive online course which provides tools and techniques for increasing reading speed while retaining accurate recall and comprehension. Many people can save one to two working days per week by improving their reading skills.
Over the years we've seen reading loads grow from an average of 5 to 8 hours/week (1996) to 20 to 30 hours per week! (2017) and 5 to 10 percent at 40 hrs/week. The average worker spends 28 percent of their work week on email, more than 11 hours a week!
Assess your reading abilities before and during the course.
Track your comprehension, memory and speed while you progress and see live results.
Helps readers to absorb multiple words per glance instead of one word at a time.
By reducing sub-vocalization, the brain becomes a "reading machine" at higher and higher speeds, allowing you to read faster with higher comprehension.
"I am the Senior Engineer of Apple Computer's Global Response Team. We are responsible for solving the problems of Apple end-users all over the world. The SuperReading course has helped us to more than quadruple our productivity. Each team member has cut, on average, twenty-eight hours of work down to five."
David Lake
Senior Engineer, Apple Computer Global Response Team
Have you seen our ROI calculator? It will tell you how much time and money your company will save each year with SuperReading. The SuperReading online course also includes brilliant memory tools and long-term study strategies. Our research shows that all people, from struggling readers to the most gifted readers, are only operating at less than 10% of their true reading potential.