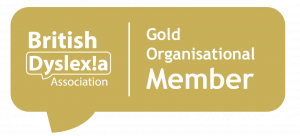 Microlink are proud to continue their Gold Sponsorship of the British Dyslexia Association throughout their 50th Year anniversary celebrations and events.
The British Dyslexia Association (BDA) has been the voice of dyslexic people since 1972 and are a membership organisation working to achieve a dyslexia-friendly society for all.
Why Would You Employ a Dyslexic Person?
The main reason has to be that they are the best person for the job. Dyslexia conveys some specific strengths including creativity, problem solving from a unique perspective, and entrepreneurial skills of big picture and lateral thinking. These strengths can result in an exceptional candidate for sales, I.T. or strategic roles who might just need to use a few coping strategies with written material. Some architect practices look for dyslexic candidates as many can visualize in 3D, very useful when you work with flat drawings! NASA employ dyslexic people because of their ability to think outside the box. More prosaically, with 15% of the population with Dyslexia and /or a related condition, someone you recruit will be affected so it's important that we next examine how to get the best from everyone.
Recruitment.
It makes business sense to ensure that dyslexic candidates are included in the pool of applicants or organisations could be ignoring a vast amount of talent. It also makes sense to run selection activities in a "Dyslexia friendly" way so that the process does not inadvertently miss relevant information on a candidate. Please note that whilst the majority of dyslexic individuals may only be mildly affected, the advice given here is relevant for that minority of individuals with very significant needs. A major issue here is the effect of stress; interviews and assessment tests are stressful for everyone. However, stress depletes the individual's coping strategies, so in recruitment, the dyslexic person usually performs worse than they would in normal working conditions because their coping strategies have broken down. The strengths such as problem solving, creativity, empathy and pattern recognition may be recognised as very valuable in the workplace. However, the recruitment process rarely focusses on these and so the challenges that dyslexia can confer, can be brought into sharp definition. Dyslexia can affect organisational, reading and writing skills and also the ability to manage and process information. Dyslexic candidates will have individual requirements which the recruitment process should accommodate, from written tests through to the final interview. Evidence of dyslexic difficulties should be no bar to selection for interview where the candidate meets the selection criteria for the post in question.
Download Good practice guidelines for supporting employees with Dyslexia in the workplace