We invite you to join us for a webinar on 25 June @ 4pm BST / 11am ET
'Making Remote Working Work'
A practical Masterclass with Nasser Siabi, Microlink & Christopher Lee, G3ICT, chaired by Susan Scott-Parker OBE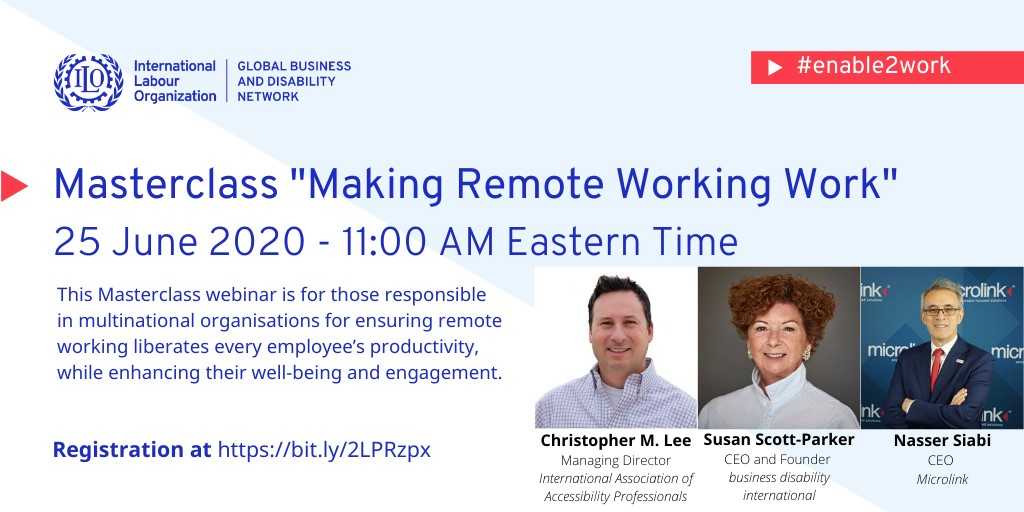 Many teams are struggling to work remotely because the basic access and communication needs of every team member have not been addressed – and because the usual 'workarounds' managed readily in the shared office environment are no longer easily available:
How do colleagues with visual or hearing or dexterity related disabilities, or those from neurominorities, participate in video meetings and access team documents via platforms like Zoom, Microsoft Teams, Skype or Cisco WebEx? Which are the most accessible – and how?
What access features are built into our existing technology that we may not be using? e.g. accessible PowerPoint presentations.
Can we access Sign Language interpreters remotely?
How do disabled colleagues working on their phones access our mandatory training programmes as well as our virtual meetings?
How simple communication protocols can make all the difference. E.g. sending PowerPoint presentations to a blind colleague BEFORE the digital meeting.
How do we minimise the pain and debilitating injuries triggered by working in noisy, cramped, uncomfortable 'non-office' environments, and whose job is this?
Our audience
This Masterclass is for all those in multinational organisations who are responsible for ensuring that remote working liberates every employee's productivity, while enhancing their well-being and engagement. This webinar should be essential learning for:
ILO Global Business Disability Network members, Team Leaders, Workplace Adjustment Service managers, Technology support services, HR, Learning & Development, Diversity, IT Procurement, Health & Safety Occupational Health
"Technology which works for extreme users works better for everyone"
Live captioning will be provided.