Innovative wearable reading aid for individuals with Dyslexia. Lexilens smart technology glasses uses the very latest scientific research to make writing more legible for dyslexic users. Removes the need for text-to-speech app and requires little training. Just requires smartphone app to link glasses to set the correct speed rate to see the printed text fluidly that helps to process and absorb the information. Compatible with prescription lenses.
What are the uses and perceptions of Lexilens ?
With a majority of regulars wearers (86%). Lexilens are perceived positively, particularly with regard to
the change in life for wearers (92%)
A proven effectiveness: children mainly wear their Lexilens for school reading, and the glasses
contribute to their progress at school (for 86% of child wearers).
The experience of using Lexilens improves over time for a little more than half of the wearers (55%) and
generates few questions from those around them that could bother the wearer (only 26% are often
questioned)
The mobile application is well appreciated by its users, particularly for it ease of use and clarity.
Features:
Rechargeable Battery
Lexilens® runs on a battery. Charging your Lexilens is as simple as charging your smartphone. Just use the provided USB-C cable. One complete charge takes approximately 5 hours and provides 25 hours of autonomy.
Once For All Settings Via App
At first use, you are to use adjust Lexilens® settings to your needs using our dedicated app available on apple and android stores. It takes approximately 10 minutes to find your optimal settings, after which they are stored in your Lexilens® eyewear. You do not need your smartphone for the regular daily use of Lexilens. Do not delete your app though to be able to update your Lexilens® firmware.
Compatible with Prescription
Lexilens® comes with a prescription add-on clip ready to host your prescription lenses. Bring them to your preferred optometrist so you can have them tuned to your needs. Once equiped with lenses, replace the nose of Lexilens® with the add-on and you're ready to go.
Universal
Lexilens® does not depend upon your language spoken or literacy level. Please note that Lexilens® will not read on your behalf: being able to read fluently may not happen immediately but you will have alleviated the obstacles from doing so.
For more information contact: Microlinkteam@microlinkpc.com
The Discovery in Short
We always think of the eye for its optical properties : making the light beams focus so we can "see" clear images.
The eye anatomy plays another important role beyond optics though : its wiring impacts the processing of images in the brain. The Maxwell centroid spot is a small region of the retina of the eye and is the area with the highest "pixel density" which we use when doing activities requiring high accuracy such as reading.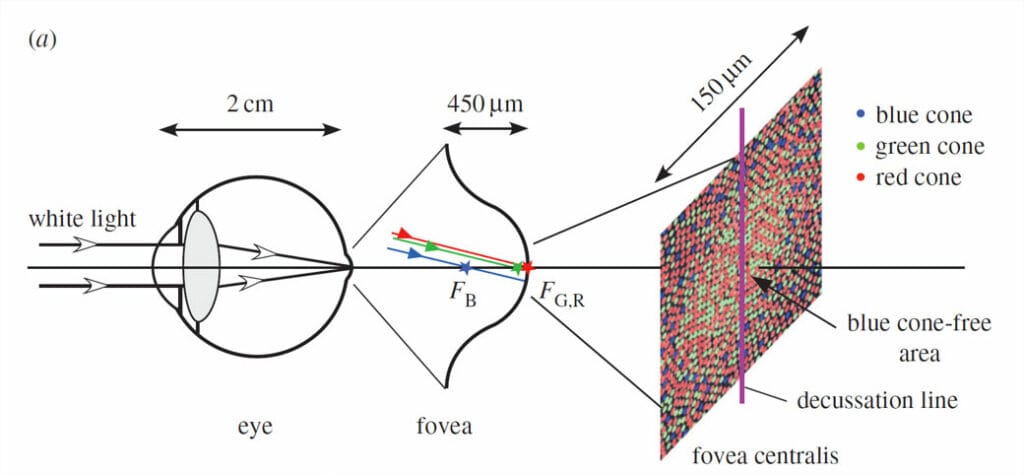 These centroids, more specifically the absence of symetry between the two centroids, enables the brain to select the "right" images before it is sent to the reading area (located in the left half brain).
Researchers discovered that when the centroids are too symmetrical, they downgrade the ability of the brain to select the right images Individuals with dyslexia have eyes that are too symmetrical, too perfect in some way, and this leads to their reading area trying to process superimposed images, an explanation for dyslexia.
DOWNLOAD THE GROUNDBREAKING SURVEY OF THE EXPERIENCE OF DYSLEXIC PEOPLE WEARING LEXILENS