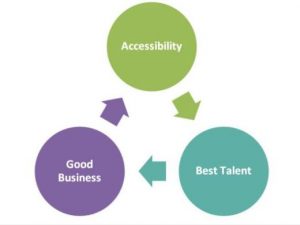 Do you consider yourself to have a disability?
Yes?
Not at the moment?
Some of us aren't currently living day to day with a disability. But that's just a temporary state. Be it due to injury, illness or age, personal circumstances can change at any time for any one of us.
Would your current employer be able to accommodate your needs if your circumstances changed?
More importantly, as an employer, if one of your employees becomes disabled, are you equipped to retain them – or do you risk losing them to a more accessible competitor?