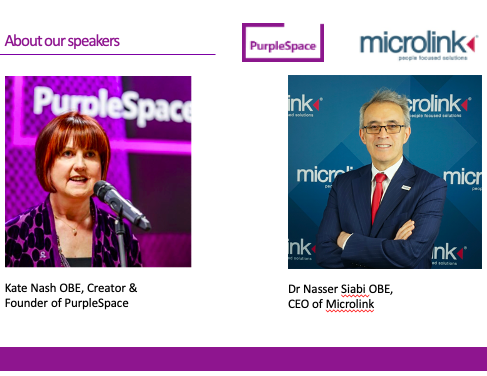 How to build remote working resilience: Webinar with disability titans with Dr Nasser Siabi OBE, CEO of Microlink and Kate Nash OBE, CEO and founder of Disability Network Purple Space is now available to watch online. Please click here to download the transcript.
Topics include:
Do you need productivity tools for both physical and mental wellbeing while working remotely?
Do you want to know how to build mental resilience in an ever changing landscape?
Do you want to hear two titans within the disability arena offer solutions, inspire and discuss how we can drive change from our living rooms?
Featuring:
Dr Nasser Siabi OBE, CEO of Microlink, leading experts in workplace adjustments and assistive technology provision.
Kate Nash OBE, CEO and founder of Disability Network Purple Space