Flip the narrative when it comes to workplace adjustments.
It's coming up to a year I will have been shielding, and during this time, I've been managing a pre-existing rare condition with Covid, which then developed in long-Covid. It has been challenging, but my reflections have led me to feel an enormous sense of privilege of having a diagnosis for my rare condition.
I've never really thought about it as a privilege until I had Covid. This is because I unexpectedly experienced a whole new condition but lacked adequate knowledge of how it would affect me or how I could manage it. Throughout my life, managing my rare condition has been my top priority; it's a job in itself. I'm really good at it and know my body well as a result.

I was born with Osteogenesis Imperfecta (OI), more commonly known as Brittle Bone Disease. It affects 1 in 15,000 people, which equates to around 5000 people in the UK with OI. The condition means my bones are liable to break without any trauma, and it's why I have a short stature. OI is a defect where collagen (the protein responsible for bone structure) is missing, reduced or low quality, so it is not enough to support the bone's minerals. Despite OI being a genetic condition, it doesn't run in my family, so I'm what they call a 'spontaneous mutation', which is fun to be, I guess.
I received my diagnosis when I was two years old, and I don't remember anything from this age – but I know it was tough for parents who had no idea until I was born that I had a condition. For two years, my parents knew I had a condition, but didn't know what it was, and they didn't know what that meant for my life or the best way to look after me. Without a diagnosis and my bones breaking, my mom was even questioned whether she was intentionally harming me. I know of others with my condition who were placed into care for the same reason – until they received their OI diagnosis.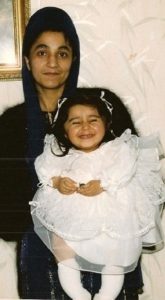 When you live with a rare condition, your only source of support is specialists in that field, who you rarely get access to. This means even my GP isn't clued up on my condition, and I'm responsible for educating any other medical professional I meet. Yes, it's incredibly exhausting. It affects every decision made about me medically; even something simple becomes a more significant issue because it's uncommon for medical professionals to have treated someone with OI.
What usually happens is they get excited to meet someone with OI because it's only something they may have read about, so it becomes a bit of a fascination to meet someone with it finally. On one occasion, I broke my leg (it was my third break), and the A&E doctor was calling everyone to my cubicle because the whites of my eyes had turned blue (typical for people with OI) whilst I was lying in agony. There are so many more stories I could share, including the time I flew halfway across the world with a broken leg to get back to my local hospital in Sandwell, but I'll save them for another time.
The 28 of February marked Rare Disease Day, an annual day to raise awareness for rare diseases and improve access to treatment and medical representation for individuals with rare diseases and their families. When this day rolls around, I usually celebrate being a person rocking a rare condition. But this year, I've felt very differently about it, thinking of those who don't ever get a diagnosis.
Manging my condition with a diagnosis has been challenging, but think how much more difficult life is when you never even know what your condition is, you don't get to meet specialists, and you don't get the support you need. You can't just Google it and have the information at your fingertips, and who isn't guilty of using the internet to (incorrectly) self-diagnose ourselves.
Therefore, when it comes to supporting people living with impairments and conditions in the workplace, stop focusing on their medical conditions or history and start focusing on the information you need. That is any effect from the impairment or condition on the individual's ability to do the role. It's that simple!
Flip the narrative because the lack of a diagnosis does not invalidate anyone's experiences, and no two individuals experience impairments or conditions in the exact same manner. If you remember this one tip, you won't go far wrong when supporting your disabled employees.
Microlink is widely renowned for their made to measure workplace adjustment service. No matter what size of organisation you represent, don't hesitate to get in touch with the experts if you have any questions about workplace adjustments or any related services they offer.
Bio
Shani Dhanda is an award-winning disability specialist, listed as one of the UK's most influential disabled people and BBC 100 Women list 2020.
As a keynote speaker and practitioner for inclusion across business, government, non-profit and wider society, Shani helps organisations break barriers and integrate inclusion into their business frameworks.
Shani's style and approach are described as 'a winning combination of authenticity and passion, helping to remove the awkwardness and fear of having confident conversations about disability within business and society. https://www.shanidhanda.com/