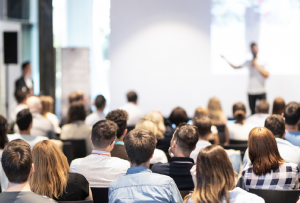 Would you like to have an automatic speech to text service that's available on-demand, anytime and anywhere?
Then take a look at Microlink's Interact Streamer a multilingual, fast and revolutionary captioning
tool. This automatic speech to text platform instantly produces spoken words in Real-Time on a compatible web-browser for people who struggle with listening and comprehension. Users can tag their own transcript with notes such as "action this" or "follow up", etc… then download a copy of the transcript afterwards to review whenever.
Interact Streamer is a great resource for those with hearing loss, Neurodiverse conditions and those with different learning styles, creating better focus where people can see what is being said rather than just hearing it.An easy to use, productivity tool that can overcome communication barriers creating an accessible environment for everyone.
Title: Interact Streamer Webinar
Date: 03/12/2020
Time: 14:00 (UK TIME)