Durham Tees Valley Support for Schools
Report of Work undertaken from April 2016 to October 2018 in and with Special Schools
Background

JCP Support for schools was introduced to the district in Pathfinder stage April 2016 with one part-time Work Advisor. It was intended to assist schools in England to deliver their statutory duty to provide high quality, independent and impartial careers advice to pupils aged from 12 to 18 (school years 8 to13).
It is aimed at facilitating an effective transition from school to work, training or further study and will add value in three broad areas:
Providing advice on routes into traineeships and apprenticeships promoting the parity of vocational and academic pathways into work.
Help in sourcing and advising on work experience opportunities, using JCP's extensive network of employers.
Providing advice on the local labour market including employability and soft skills that employer's value, for example team working and commitment.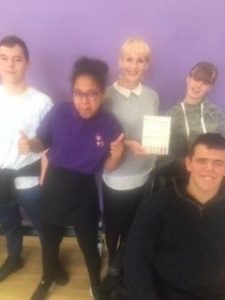 Following independent evaluation it was rolled out in November 2016, introducing 3 further part-time Work Advisors to cover the Durham Tees Valley District.
One of the first schools who expressed an interest in working with the project was a special school in Middlesbrough. The school admitted that while they offered a good standard of education and experiences to all their learners, they were failing to prepare them for the world of work. After offering a period of intense support to the school the good practice and lessons learned were rolled out to Special Schools throughout the Durham and Tees Valley Districts.
Achievements
The team are currently working with 13 Special Schools in Durham Tees Valley. They are also working with SEND departments in a large number of colleges and mainstream schools.
Specifically in the special schools they are working in the team and have:
Delivered 280 employability sessions

(amongst many others)

including ways of working, confidence and motivation, skills employers want, CVs, application forms, making the most of work experience, apprenticeships and interview skills.
Introduced 42 different employers.
Arranged 40 visits to employer sites ranging from theatres to factories.
Helped to arrange and attended 16 Careers Fairs and Work Skills events.
Helped arrange and attended 8 parent events, aimed at helping parents to overcome fears and concerns they may have about their children's future.
Helped negotiate 34 work experience placements.
In addition to this the team have been:
Undertaking staff and governor training.
Providing relevant information to school and local authority staff to help them embed employability and careers education.
Attracting and supporting a DWP Strategy Led Pilot to the district.
Forging new relationships with SEND groups and organisations.
Acting as Jobcentreplus Ambassadors in Special Schools and Colleges where no previous relationship existed.
Working on a 1:1 basis with learners with more complex needs and mental health issues to overcome fears and find possible work solutions.
Some of the feedback we have received from staff working in the Special schools has been:
'It was a lovely well planned session. Students interacted well and listened intently. Alison was very informative and professional and aimed the session perfectly for the students' needs.' – Beaumont Hill Academy, Darlington
"This work is especially important to an autism specific special school because it helps raise the awareness of outside agencies to the skills possessed by our students and the strengths and unique attributes that they have. It also directly benefits our students by lowering their anxiety levels through familiarisation with the processes they are expected to participate in." – Beverley School, Middlesbrough
"We look forward to the next session on 'job searches' and really will welcome more engagements with you in the next academic year as your help is proving invaluable, particularly with our Post 19 students." – Catcote Academy, Hartlepool
"Wendy, your provision, dedication and work done with our students this year has resulted in a substantial reduction of our NEETs." – Hollis Academy Middlesbrough
We were thrilled to win the Disability Inclusion Civil Service Award sponsored by Microlink and Fujitsu. Read more