A significant element of being a disability specialist is about having a lot of uncomfortable and difficult conversations. It's being involved in projects and being the person in the room reminding people to consider the impact of their decisions for every protected characteristic, as the minimum standard.
I really love what I do, but there are occasions where it feels more exhausting due to what is happening externally, or because of the lack of progress. More recently I've started to notice a trend, where people have clearly had the very best of intentions but sadly the outcomes have been lack lustre.
Here are some examples from last month, April 2021:
The news of the Duke of Edinburgh's death led many organisations to find different ways to show their respect for the Royal Family in their time of grief.
Many organisations that run essential public services, including train companies, chose to turn their websites to greyscale temporarily. While done with good intentions, the change created accessibility problems for disabled customers. For many disabled people, it blocked them from accessing essential services and information. Here's why greyscale is bad for online accessibility.
Train stations across the country provide a brilliant service of taking passengers to and from their trains with assistance vehicles or buggies, just like those in airports. They make a loud beeping noise when they're moving to alert you to watch out and make space for them to pass, but if you're like me, you've still probably been nearly run over by one.
The images below show that an assistance buggy is wrapped with the 'Hidden Disabilities' green and yellow branding, which contradicts what the scheme is really about. Wearing the Hidden Disabilities Sunflower lanyard discreetly indicates to people around the wearer, including staff, colleagues and health professionals, that they need additional support, help or a little more time.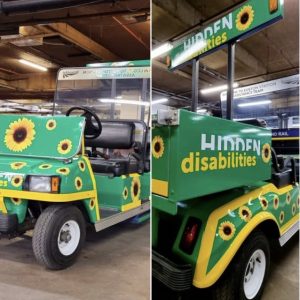 I was pretty puzzled when I saw these images and the irony of it all. Whilst it might look colourful and have the intention to raise awareness of the scheme, do disabled people want to ride in this buggy, especially those with non-visible conditions or impairments?
Sidenote: Several terms are used to describe conditions or impairments that are not visually obvious, but the best phrase to use is non-visible, and it's in line with the social model of disability. It's essential to use the correct language, here's why:

👉🏾 'hidden disability' implies that people are purposefully hiding their disability

👉🏾 'invisible disability' implies that the disability is in that person's head and doesn't really exist

👉🏾 'less visible disability' implies that the disability is partially visible, whereas in most cases, it's not visible at all

Disabilitywas a key theme of this year's Oscar-nominated films, but one thing that doesn't sit right is non-disabled actors playing disabled characters and winning awards for it, when disabled actors aren't given opportunities to play more than a minor role. There is a double standard in the film industry because I've never seen disabled actors play non-disabled characters, have you?

The film Sound of Metal has been resoundingly successful among critics and hearing audiences, with Riz winning Best Actor at the Oscar-predicting Gotham Awards. Still, its impact on the Deaf and hard of hearing (D/HoH) community has been overlooked. Touching as the film may be for hearing audiences, the response from the D/HoH community is varied but largely negative. Sound of Metal is just another reminder that they haven't been allowed to tell their own stories. Also, see the recent furore over Sia's casting of Maddie Ziegler in Music, a film about a non-speaking autistic person.
So, as you can see, whilst organisations and decision-makers think they're progressive and well-intentioned, if the outcome has the opposite effect, it could do more harm than good. Good intentions do not matter as much as the impact of your actions.
My advice is to take a common-sense approach and sound your ideas out with a variety of people; nothing beats diversity of thought. Consider your vision, project or product from all of the different angles and touchpoints that everyone else will experience. And if the desired outcome doesn't meet the mark you expected or had hoped for, get feedback, learn from it, and use that knowledge going forward to do better next time.
Don't forget that disability is a spectrum, so it's virtually impossible to do something that every single disabled person is going to praise you for or agree on. Your best guide here is to think in line with the Social Model of disability and sense-check your plans with experienced professionals, especially if you're not confident on the topic yourself. These tips will help you to avoid causing any unintentional offence and reduce the likelihood of reputational risk.
Bio
Shani Dhanda is an award-winning disability specialist, listed as one of the UK's most influential disabled people.
As a keynote speaker and practitioner for inclusion across business, government, non-profit and wider society, Shani helps organisations break barriers and integrate inclusion into their business frameworks.
Shani's style and approach are described as 'a winning combination of authenticity and passion, helping to remove the awkwardness and fear of having confident conversations about disability within business and society.'