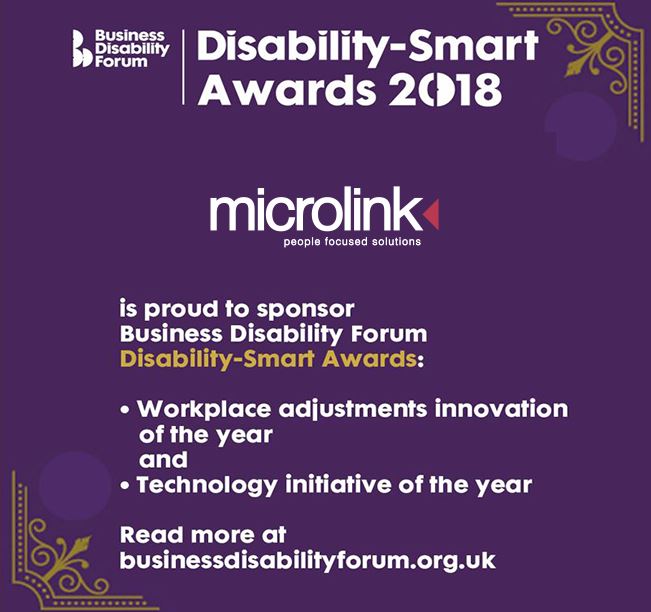 Business Disability Forum announced the winners of the 2018 Disability-Smart Awards on 29 November, recognising individuals and organisations around the world that have made an outstanding contribution to disabled people.
Paralympian Stef Reid presented nine awards in total at a prestigious ceremony at the Foreign and Commonwealth Office in Whitehall, London. The event was sponsored by Barclays.
Microlink was delighted to sponsor Technology Initiative and Workplace Adjustments Innovation of the year at the Disability Smart Awards 2018.
Dr Nasser Siabi CEO at Microlink presented the two awards at this memorable ceremony.
He said: "Conditions shouldn't be a barrier to people's success… Employers have to do what's best for their employees and make sure everyone has a chance to succeed and progress and certainly it's good for the business."
"For the past 25 years we used technology to help nearly 300,000 disabled students to graduate, we know that technology is enabler and it's incredibly powerful when it's used correctly."
The winners of the awards were as follows:
Disabled People's Choice Award for the most inclusive service provider, employer or experience: Liverpool FC
Senior disability champion of the year: Sir Philip Rutnam, Permanent Secretary, UK Civil Service
Inclusive service provider of the year: Gatwick Airport
Positive cultural change of the year: West Midlands Police
Workplace adjustments innovation of the year (sponsored by Microlink): Financial Conduct Authority
Influential business of the year: KPMG
Technology initiative of the year (Sponsored by Microlink): Microsoft[ngg src="galleries" ids="7″ display="basic_thumbnail"]